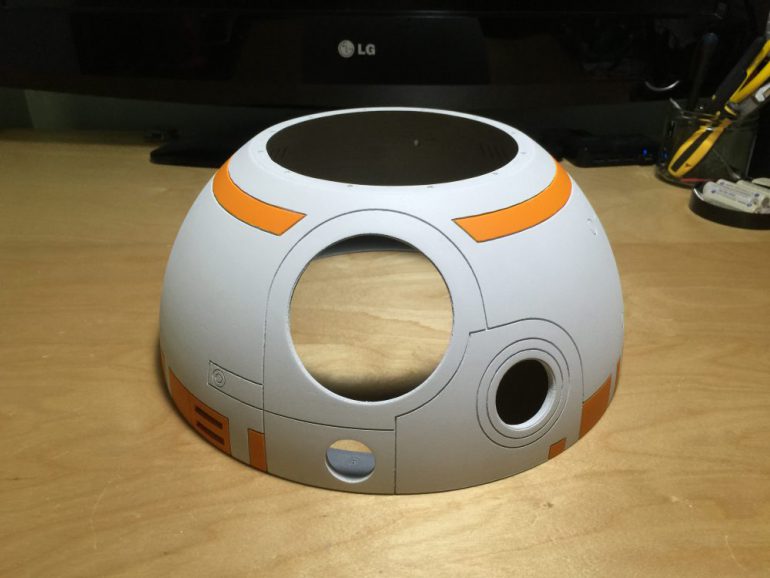 Building BB-8: Part 3 – Painting the Dome Assembly
In order to ensure that I get the exact orange that matches the BB-8 in the movie, I decided to test out various spray paints that I can find in Singapore.
First I tried, Nippon Pylox Orange Yellow as the colour of the spray can's cap looks like a close match to BB-8's colour. The BOSNY orange is too dark and their orange yellow is too light. Unfortunately Nippon Pylox Orange Yellow did not work out too well when compared to Pantone 715C which is the colour recommended by some users on the BB-8 Builders Club.
After the first failed attempt, I decided to try both the Nippon Pylox Deep Yellow & Medium Yellow. Even though the Deep Yellow looks acceptable, I find it a little too bright.
I decided to try using 2 colours (Orange Yellow & Deep Orange) and see if that helps. First I tried using the dark Orange Yellow as a base coat followed by the bright Deep Yellow as a top coat and the result was rather disappointing. Then I tried using the bright Deep Yellow as a base coat followed by the dark Orange Yellow as a top coat and the result was surprisingly much better.
Some members in the group recommended using Liquitex Cadmium Orange Hue and I happen to see it in a local art store. Make sure to use the Liquitex Cadmium Orange Hue and not Liquitex Cadmium Orange Hue 2, Hue 5 or Hue 6. Even though the colour on the can looks a little light, the result is fantastic! This is the colour that I have chosen.
Once the colour has been selected, it is time to mask the area for painting.
Make sure to leave the paint to dry overnight before peeling the mask off. Patience is a virtue.
For the silver parts, I use AMACO Rub 'n Buff silver as I prefer the results compared to using a metallic spray paint. Use it sparingly, a small amount can cover a wide area.
Be careful when applying a clear coat as most will dull the metallic silver into a flat gray. SprayMax 2K clear coat produces good results but unfortunately it is not available here in Singapore and I cannot ship aerosol spray paint by air. I've tested a variety of clear coats that I can find here and as you can see from the results below, Liquitex Satin Varnish goes a pretty good job.
For more robotics, 3D printing and amazing Arduino projects, check out IXEN Robotics Singapore website.